Brazil-China Soybean Ship Has Propped up the Freight Rate of Bulk Carriers!
From: WWW.SOL.com.cn
Category: Industry
15/Apr/2021
Recently, the freight rate of bulk carriers has witnessed a "boom" period of the dry bulk market, with Brazilian soybean exports playing an important role.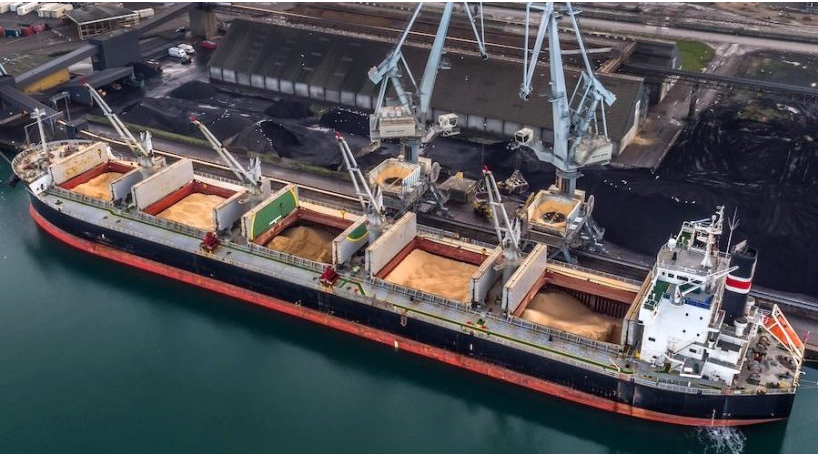 Banchero Costa, a shipping broker, said in his latest weekly report: "Two weeks ago, we discussed the exports of soybeans from the United States from 2020 to the beginning of 2021. Now let's look at another major exporter of soybeans: Brazil. In general, although COVID-19 has an impact on the global economy, in 2020, soybean trade is still very positive which was mainly driven by Chinese demand, and will continue in 2021. "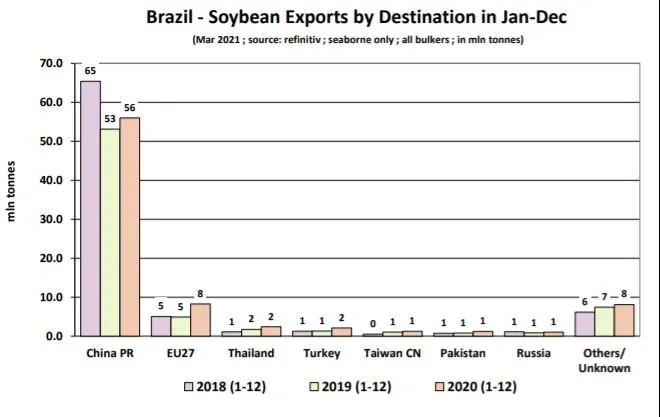 According to the report of the ship broker, "Chinese mainland imported substantial soybeans in 2020, amounting to 94.9 million tons in 2020, up 17.5 percent year-on-year. Mainland China accounts for 63% of global soybean trade. Last year, although China favored North American soybeans for various reasons, Brazil remains one of its indispensable import markets. Refinitiv data shows that in 2020, Brazil exported 80.3 million tons of soybeans, an increase of 12.9% compared with 71.2 million tons in 2019, but still slightly lower than 81.3 million tons in 2018. "
Banchero Costa said: "In the first quarter of 2020, Brazil exported 21.2 million tons of soybeans, an increase of 17.3% over the same period in 2019. The second quarter witnessed shipment volume from Brazil of 38.6 million tons, up 48.4% year-on-year. In the third quarter, exports volume decreased to 17.4 million tons, but still increased by 16.6% compared with the same quarter in 2019.
However, in the last quarter of 2020, the situation was extremely bad, and the shipment volume dropped to 3.1 million tons, a decrease of 74.3% compared with 12.1 million tons in the same period of 2019. It reached its lowest point in December 2020, when the export volume basically dropped to zero and remained basically at zero in January 2021. In February 2021, the loading volume began to rebound to 5 percent and shipments were 4 million tons, but this is still the lowest transaction volume in February since at least past 4 years.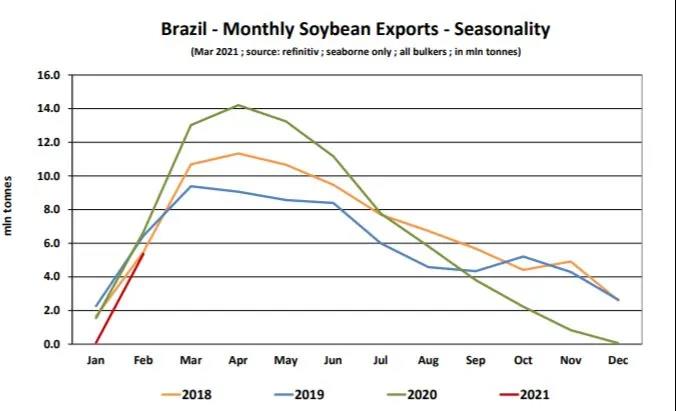 The ship broker added: "In this winter, the excessive rainfall in Brazil took a heavy toll in the country's harvest and exports. After signing trade agreement with the USA, China has substantially increased its soybean imports from the United States. Meanwhile, However, Brazil succeeded in diversifying its customer base and getting rid of its dependence on Chinese mainland. In 2020, 69.7% of soybeans exported from Brazil were shipped to Chinese mainland, which was lower than 74.7% in 2019 and 80.4% in calendar year 2018.
Shipments from Brazil to China increased from 53.1 million tons in 2019 to 56 million tons in 2020, but dropped sharply compared with 65.4 million tons in 2018. By 2020, exports from Brazil to other destinations did surge. Exports to the EU increased by 68.9% year-on-year to 8.3 million tons, accounting for 10.3% of Brazil's soybean exports; to Turkey increased by 61.7% year-on-year to 2.1 million tons, accounting for 2.6% of Brazil's soybean exports; to Thailand increased by 40.6% year-on-year to 2.4 million tons; to Taiwan Province, China, increased by 17.7% year-on-year to 1.2 million tons; to Pakistan reached to 1.2 million tons, up 56.3% year on year.