The First Interior Architect and Outfitting Event for the Cruise Industry in Asia Cruise
From: Marintec China
Category: Expo
03/Dec/2019
To answer the demand from the industry, a new extension, Marintec Interiors will be launched within Marintec China. Located in Hall N4, a dedicated area to bring a total new experience to all attendees at the 2019 event.
Marintec China showcase the complete maritime supply chain shown in 90,000 square-meters exhibition space from shipbuilding raw components, electrical systems, deck and safety equipment, port constructions to shipbuilding systems and technology, and all maritime related products and services.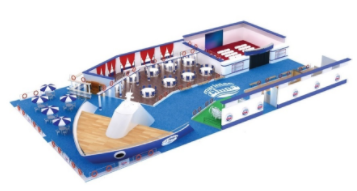 Out of 2,100 exhibiting companies at Marintec China, 240 were from the cruise shipbuilding industry exhibited at Marintec China 2017.
Feature Areas at Marintec Cruise
The Deck
The Reception
Cabin and Suite
Bar and Restaurant
The Theater
Recreation and Relaxation
Highlights at Marintec Interiors
Open seminars focusing on the cruise shipbuilding market in Asia
Daily happy hours for industry professionals to network
For more information, please email us at marintec-hk@informa.com.
为了满足行业的需求,邮轮内装展将在国际海事展期间同期举行。邮轮内装展将位于N4大厅,一个独立专区,为会者带来一份全新的邮轮体验。
Marintec China将展示包括 从原材料、动力系统,电气系统,甲板和安全设备,港口建设到造船系统和技术在内的所有海事相关产品和服务等,在90,000平方米展览空间中展示的完整海事供应链。邮轮相关设备、技术是其中的重要展品。
2017年, Marintec China的2,100家参展公司中,有240家来自邮轮造船业。
本届Marintec China特设邮轮内装展区 —— Marintec Interiors
甲板区
招待会区
客房和套房
酒吧和餐厅
电影院
娱乐和休憩
Marintec Interiors的亮点
针对亚洲邮轮造船市场的各类专题研讨会。
每日欢乐时光,让业界人士联络交流。