Hotel Information of Ahoy Rotterdam
From: E-PORTS
Category: Expo
29/Sep/2019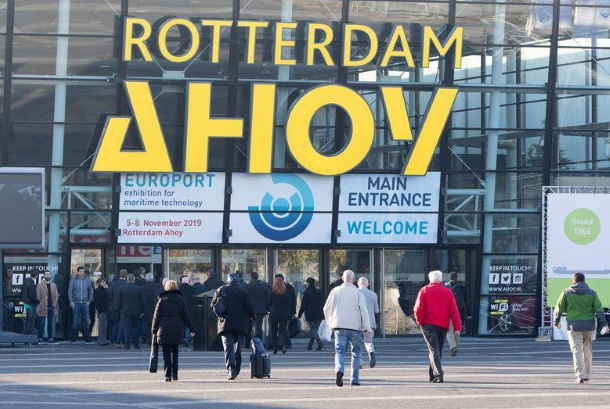 The Europort 2019 will be held from November 5 to 8 at the Rotterdam Ahoy, Netherlands. E-PORTS will meet with global shipowners at the Stand No. 8450-18, Hall 8, China Pavilion.
Also, E-PORTS has collected the accommodation information for your reference. The detailed information is subject to your consultation.
1. Rotterdam Marriott Hotel (2.8 miles)
Inviting and elegant at the heart of Rotterdam. Welcome to the Rotterdam Marriott Hotel! The leading hotel in Rotterdam. The central location, opposite Rotterdam Central Station, makes the Rotterdam Marriott Hotel your ideal starting point for experiencing this vibrant city. Our passionate and experienced team guarantees you a carefree stay. With honest and personal service we make the difference 228 rooms and suites are all furnished in modern style with spacious floor areas. The central location in the inner city and the mix of multinationals, local enterprise and residences combine to make Rotterdam Central District an energizing entrance to the city. A unique meeting point between Rotterdam and Europe.
Tel: 010-4302000
Add: Weena 6863012 CN Rotterdam The Netherlands
Web: https://www.marriott.com/hotels/travel/rtmmn-rotterdam-marriott-hotel
2. ART En Woon (1.0 miles)
Tel: 010-2794111
Add: Mijnsherenlaan 93081 GA Rotterdam The Netherlands
3. Nhow Rotterdam (1.7 miles)
The NH story is one of growth, growth in establishments, quality and prestige over its 40-year track record. Today it is a benchmark operator of city hotels in Europe and Latin America. It operates more than 350 hotels in 28 markets, including top city destinations such as Amsterdam, Barcelona, Berlin, Bogota, Brussels, Buenos Aires, Düsseldorf, Frankfurt, London, Madrid, Mexico City, Milan, Munich, New York, Rome and Vienna.
To speak with one of our NH Rewards AGENTS regarding your account, please feel free to contact us from Monday - Friday between 08:00am and 09:00pm or on weekends between the hours of 08:00am - 05:00pm.To speak with one of our RESERVATIONS AGENTS, don't hesitate to give us a call using the following telephone numbers.
Tel: 010-2067600 / +34 91 398 44 38 / +34 91 398 46 61
Add: Wilhelminakade 1373072 AP Rotterdam The Netherlands
Web: https://www.nhow-hotels.com/en/
4. CitizenM Rotterdam Hotel (2.6 miles)
We disrupted the traditional hotel model to give modern travellers what they want – affordable luxury.
citizenM started with an idea to disrupt the traditional hotel industry by creating a luxury hybrid hotel for today's modern travellers – eliminating the frustrations these travellers shared. A new breed of hotel designed around a new type of traveller – one who values a luxury hotel experience in central city locations, but at an affordable price.
A hybrid hotel that isn't just a place to sleep, but somewhere to work, relax, and play. To meet like-minded people and get inspired. Somewhere to feel at home the moment you walk through the door. Somewhere with free Wi-Fi, comfortable furniture, and a great bed to crash in at the end of a long day.
Tel: 010-8108100
Add: Gelderseplein 503011 WZ Rotterdam The Netherlands
Web: https://www.citizenm.com/destinations/rotterdam/rotterdam-hotel
5. Hotel New York (1.5 miles)
From 1901 on, the iconic building on the Kop van Zuid shines and stands tall. The historical Holland America Line was replaced by the hotel-restaurant Hotel New York. The building has a great history and we are glad to take you back in time with memorable moments and a warm atmosphere. Let us surprise you with all that Hotel New York has to offer.
Tel: 010-4390500
General: +31 (0)10 – 439 05 00
Table reservations: +3 (0)10 – 439 05 25
Hotel and meeting reservations: +31 (0)10 – 439 05 55
NY Basement: +31 (0)10 439 05 24 (4 PM – 10 PM)
Administration: +31 (0)10 – 439 05 15
HR Department: +31 (0)10 – 439 05 80
By car: Hotel New York is easy to reach using the standard arterial roads and is situated on Wilhelmina Pier at the 'Kop van Zuid', close to Erasmus bridge. The address is: Koninginnenhoofd 1 (alternatively: Wilhelminakade), 3072 AD, Rotterdam.
By public transport: At the start of Wilhelminapier, opposite the new Luxor theatre, is the underground railway station Wilhelminaplein (line D and E), which can be reached directly by underground railway from the city centre, the central train station or the Ahoy venue. There is also a tram stop Wilhelminaplein right next to this underground railway station, used by tram 20, 23 and 25 coming from the city centre and the central train station.
Add: Koninginnenhoofd 13072 AD Rotterdam The Netherlands
Web: http://www.hotelnewyork.nl/
6. Mainport (2.2 miles)
Mainport is the most luxurious and modern hotel in Rotterdam. It is not just a hotel, it's a lifestyle. Mainport's unique location, on the banks of the river Maas, offers sweeping views over the water and the skyline of Rotterdam.
Get inspired by Mainport's world class atmosphere and exceptional design. The hotel offers a gateway to all of the world's continents, integrating the influences from East to West in a 5 star design setting.
Rotterdam's highlights are all within walking distance from Mainport Hotel.
Inntel Hotels has respect for people and the environment, and contributes to a healthy planet and beautiful society. With the Surprisingly Sustainable program, the hotel group is working towards a sustainable future.
Mainport is a member of the prestigious Design Hotels brand. Schiedamsedijk 140 (GPS Valet parking)
Zalmstraat 1 (GPS parking Erasmusbrug)
Terwenakker 18 (GPS parking Boompjes)
Leuvehaven 77 (postal address)
3011 EA Rotterdam
Tel: +31 (0)10 217 5757
Fax: +31 (0)10 413 3222
E-mail: info@mainporthotel.com
KvK Rotterdam 24260680
Add: Leuvehaven 773011 EA Rotterdam The Netherlands
Web: http://www.mainporthotel.com/
7. Cruise Hotel (1.2 miles)
Tel: 010-2973090
Add: 3e Katendrechtsehoofd 253072 AM Rotterdam The Netherlands
8. Suitehotel Pincoffs (2.0 miles)
Tel: 010-2974500
Add: Stieltjesstraat 343071 JX Rotterdam The Netherlands
Web: http://www.hotelpincoffs.nl/