The First 16,000-TEU Container Ship of HMM Started its Maiden Voyage with Full Load
From: www.eworldship.com
Category: Industry
12/Apr/2021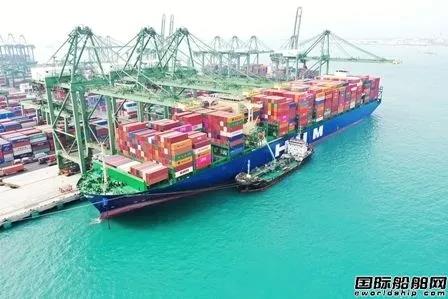 HMM Nuri, the first of a series of eight 16,000-TEU container vessels of HMM (formerly Hyundai Merchant Marine), started its maiden voyage with a full load.
On April 6th, "HMM Nuri" left Singapore Port with a full cargo volume of 13438 TEUs, and will pass through the Suez Canal to the port of Rotterdam, the Netherlands. According to HMM, considering the safety of ship operation and cargo weight, the maximum capacity of each 16,000-TEU container ship is about 13300 TEUs on average.
"HMM Nuri" serves on the Asia-Nordic route (FE4),with ports of call at Busan, Shanghai, Ningbo, Yantian, Singapore, Suez Canal, Rotterdam, Hamburg, Antwerp, Southampton, Suez Canal, Yantian, Hong Kong, Shanghai and Busan.
"HMM Nuri" is the first of eight 16,000-TEU container ships built by Hyundai Heavy Industries for HMM, which was delivered in March this year. The following "HMMGaon" was also delivered to HMM in March and is currently on its way to Yantian Port. Another 6 new vessels will also be delivered in the first half of this year.
Based on the design philosophy of "LNG reservation", these ships are equipped with open-loop desulfurization device and adopts selective catalytic reduction technology, which can reduce the emission of nitrogen oxides by more than 80% compared with the industry average. In addition, new ships also improve the energy efficiency, reducing the carbon footprint by 52% compared with the previous generation ship. The ship's lashing bridge is designed as a windproof structure to ensure reliable protection of containers in strong winds and to improve operational safety.
It is learned that these vessels are parts of up to 20 VLCSs ordered by HMM in three major shipbuilding companies in Korea in 2018. Among them, 12 24,000-TEU container ships built in Daewoo Shipbuilding and Samsung Heavy Industries were all delivered last year and put into Asian and European routes.
It is worth mentioning that since April last year, HMM's 12 24,000-TEU container vessels have completed 37 voyages, 36 of which were fully loaded.
With the addition of eight 16,000-TEU container ships built by Hyundai Heavy Industries, the fleet capacity of HMM container ships will be expanded to 900,000 TEUs after delivery, which will form a cost structure with lower fixed costs and higher operating efficiency. HMM aims to expand the fleet size to 1 million TEUs by 2022, which is the total capacity of HMM and Hanjin Shipping in 2016.