South Korea Crew Change Policy Guidelines in Week 26 of 2022
From: E-PORTS
Category: E-PORTS
29/Jun/2022
On June 22, the headquarters of the central epidemic prevention strategy of South Korea reported that as of zero o'clock of the same day, South Korea had added 8992 confirmed cases of COVID-19 compared with zero o'clock of the previous day, with a total of 18298341 cases. On the same day, there were 106 imported cases abroad, with a total of 34106 imported cases. At present, there are 64 critical cases (7 new cases on the same day) and 11 new death cases on the same day. The cumulative death rate is 24474, with a mortality rate of 0.13%. In South Korea, 87.8% of the population has completed the first dose of vaccination, 86.9% of the population has completed the second dose of vaccination, 65% of the population has completed the third dose of vaccination, and 8.3% of the population has completed the fourth dose of vaccination.
The South Korean government persuades tourists in summer to abide by the epidemic prevention code. On June 22, South Korea's central disaster safety response headquarters said that last summer, a number of mass infections occurred in coffee shops, shopping malls and resorts with a large number of tourists. This summer is the first holiday season since the social distance restriction was lifted. Domestic and foreign tourists will increase significantly, which may cause mass infections again. It is suggested that people planning to travel should be actively vaccinated with the third and fourth doses of vaccine, wear masks indoors and in crowded places, and abide by the epidemic prevention rules.
According to the epidemic map of the global intelligent ship service management platform E-PORTS, under the influence of the new round of Omicron epidemic, the policies of Japan main ports have been changed on 8th June, 2022.
1. Are there any restrictions on crew who embarked from COVID -19 high risk countries or specific nationalities?
- Crew who embarked at previous port should hold PCR cert issued within 48hrs prior to departure at embarkation port (in case when this crew embarked within 14 days at previous port prior to call in Korean port).
In case of violation of the submission of PCR test certificate before vessel arrival
---Quarantine inspection and PCR test for all crews on arrival
---No cargo operations until a negative PCR test result for all crews is known
---A fine of USD 2,000 or less for on-signer(per person) if:
---A fine of USD 1,000 or less for on-signer(per person) if: (As per Quarantine regulation – Started from from 00:00LT 15th January 2021)
In exceptional cases against the submission of PCR test certificate before vessel arrival, PCR test results issued within 72 hours of boarding date are accepted
subject to the following two conditions(both 1st + 2nd):
=> 1st : If the sailing period is over 14 days after vessel departure in the port that on-signers embark
=> 2nd : If Non-contact cargo operation is available in port like Container carrier, Tanker & Product carrier, Crude carrier and LPG carrier
2.1 Crew Change permitted?
• Yes, but subject to the following conditions.
- On-signer(s);
Starting from 7th June 2022, on-signers can enter Korean territory without entry Visa. Agent will issue LOG/EDI/OKTB for on-signer to get arrival Visa.
They should hold a negative PCR result issued within 48 hours before boarding the flight. If not, will not be allowed to board flights to Korea.
On-signers will be need to do a PCR test at the airport or nearer local hospital within 3 days on arrival on their own expenses.
Those who have completed vaccinations overseas, must input their vaccination history and upload their vaccination certificates in the advance quarantine information input system(Q-CODE).
Foreigners who have completed COVID-19 vaccination and have inputted their vaccination history and uploaded their vaccination certificates in the advance quarantine information input system(Q-CODE).
PCR negative certificate tested and issued within 48hours is still required.
if on-signers input the vaccination information and attached the certificate, it will be accepted.
Off-signer(s);
-Off signers can disembark without PCR test by quarantine but PCR test will be done within 3 days after disembarkation from vessel with own expenses.
If Positive case, Agent will follow up the instruction by Public healthcare center.
Chinese nationality off-signers must be isolated at designated quarantine facility and normal hotel to meet Chinese government required for 14 days quarantine + 2 days for PCR & IGM testing at an accredited medical institution by the Chinese embassy.
IMPORTANT :
-Starting from 00:00LT 21st/Feb:
If crew(s) who embarked at a previous port within 14 days before arrival in Korean port, they should have a negative PCR test result issued within 72hours before vessel departure.
* If a crew doesn't have valid test-results, a fine will be imposed from the immigration and quarantine office respectively as per quarantine regulations.
< PCR certificate issuance standards>
1. PCR certificate should be issued in Korean or English as a rule.
2. In the case of a local language, a Korean or English translation copy, and its notarization document should be submitted together.
3. Personal translations should be notarized at the local notary authority or Korea Embassy but in case of translations from the certificated translation office, notarization is not required.
4. If the vessel is coming from high-risk countries except for England(UK) and South Africa, the PCR certificate issued from a medical institute designated by Korean Embassy is acceptable only.
(For Russia, if there is no QR code, it is not acceptable)
<The required information in PCR negative certificate>
1. Patient Name
2. Test method
3. Test result
4. Specimen collection date
5. Issue date
6. Date of Birth or Passport number
7. Stamp or signature of Medical institutions
-. The available airport in Korea is only Incheon International airport(ICN) since the COVID pandemic.
-. All ships entering in "Busan" port within 14days if the crew change has been done in the Philippines or Russia are not allowed.
On E-PORTS platform, COVID-19 Global Port Restriction Map collects information of main ports in the world and releases authoritative and official announcements of various policy changes caused by the COVID-19. For more details about port restrictions and crew change information, please visit: https://www.e-ports.com/app/virusmap.html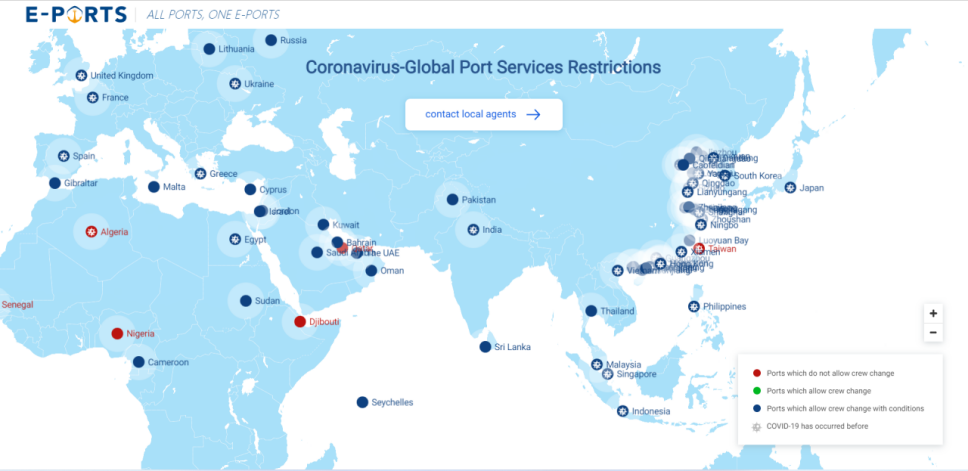 Click on each country in the map to display the crew change policy for the country.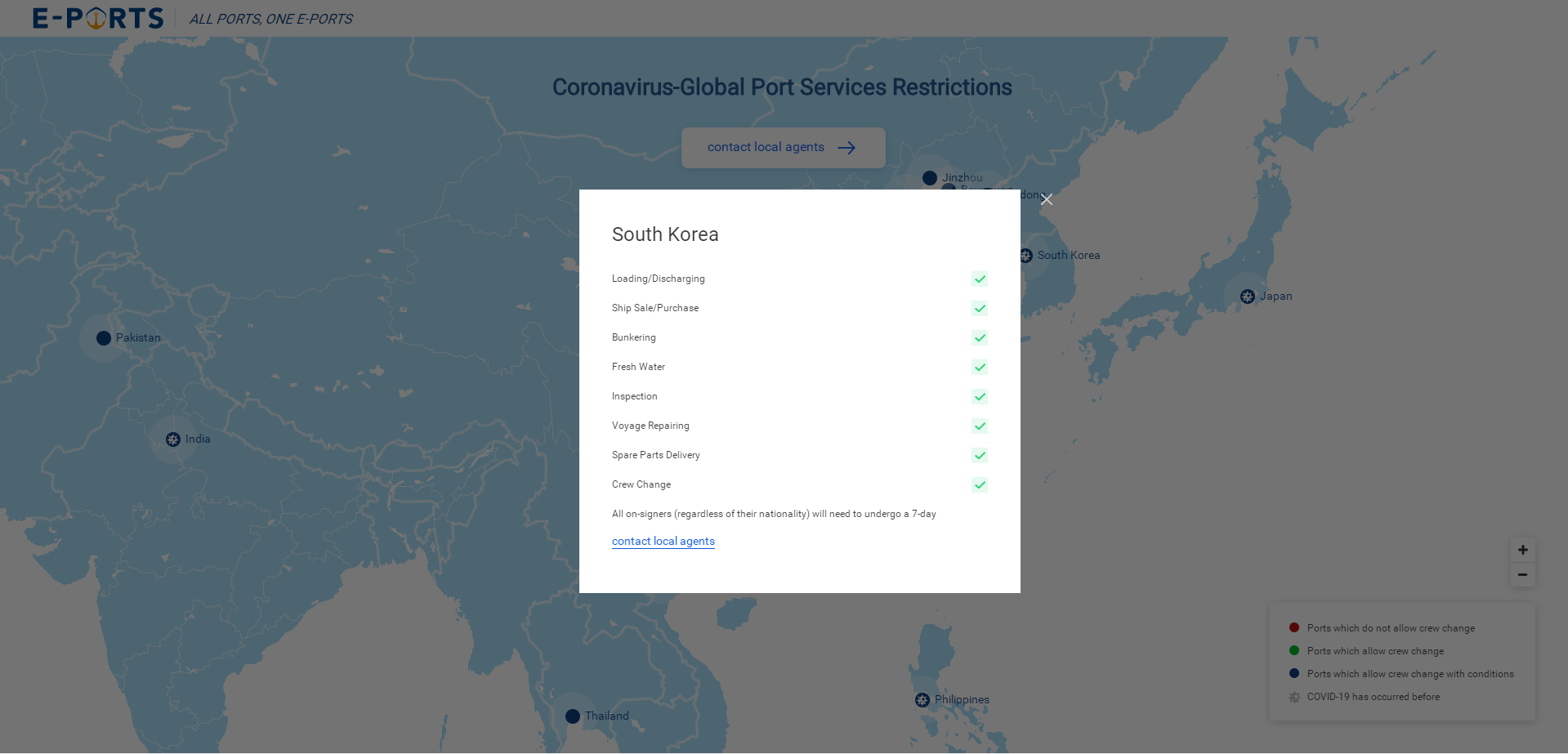 For more information on the port and crew change policy, please click 【Contact Local Agent】 for enquiries.