8 Popular Shopping Areas in Rotterdam
From: E-PORTS
Category: Expo
08/Oct/2019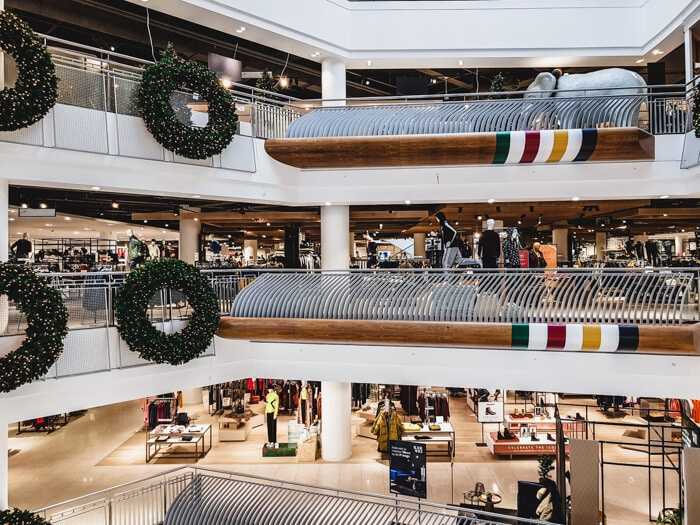 1. MAHO QUARTER
The MAHO Quarter is the area around the Pannekoekstraat and the Botersloot behind the Markthal. This is where you come for originality and quirkiness. Possibly the best-known store in this neighborhood is Very Cherry, selling 1950's fashion.
By the way, did you know that the Pannekoekstraat ("Pancake Street") is actually named after a pancake restaurant? It is! And you can still get pancakes at Pannenkoekenhuis Dutch Diner, now on Meent 20.

2. HOOGSTRAAT AND KORTE HOOGSTRAAT
It's hard to put a label on the Hoogstraat and Korte Hoogstraat. Both feature a curious range of shops, from well-known chains and budget stores on the northern side to hip independent shops such as sneaker store WOEI.
Good to know: At one of the Hoogstraat, you'll find department store Hudson's Bay. At the top floor, there's a La Place eatery from where you can enter the rooftop terrace to get a view of the Markthal in the distance and the shopping street below.And if you want to feel like you're in New York, head to Saks Off 5th, an outlet store of the famous Saks on 5th Avenue in New York selling designer brands at prices discounted up to 60%.
3. THE INDUSTRY BUILDING
The Industriegebouw or "Industry Building" is a rather new hotspot in Rotterdam. A 1952 industry building restored in its original state, it now houses office spaces, shops, and cafes.
4. THE NIEUWE BINNENWEG
The Nieuwe Binnenweg offers a diverse mix of mostly independent stores such as flower store Een Bloemetje op Tafel, pop-up store Restored, vintage store Sistermoon, and record store Demonfuzz Records. This street is where you come for design, music, gifts, and clothes nobody else is wearing.
A favorite on the Nieuwe Binnenweg is probably gift shop Voorlopig, which means as much as "For the time being". Lots of the gifts for sale here are handmade or limited edition and if you need a break, you can get coffee and cake from a local roaster and bakery at the back of the store. Take your time and if you see something you like, just get it, because you won't find it anywhere else.
Don't just stop at the stores I've mentioned, though. Take your time to do the Nieuwe Binnenweg. Walk it on one side, then come back on the other to make sure you haven't missed a thing and don't be afraid to walk into the littlest stores, such as Zigt Sieraden, which sells all kinds of jewelry from small and subtle to big and shiny, from other designers as well as from its own collection.
I often feel a bit uncomfortable when I'm the only person in a smaller store as if I'm being watched, but the smaller stores are exactly where you can find unique things, so go ahead and let your eyes wander around.
Good to know: The Nieuwe Binnenweg also has a nice bar scene and can get just as lively at night as it is during the day.
5. HOFBOGEN
This former train station offers a mix of stores and eateries and also houses the famous jazz club Bird. Since June 2018, the rooftop has been turned into a city park. Men should pop into Denoism here, while interior design lovers need to check out Pantoufle.
6. DE BIJENKORF
The Bijenkorf ("de" is "the" in Dutch) is a Dutch shopping icon. Here you'll find clothing, linen, books, kitchen and writing supplies, suitcases, sportswear and more.
The Rotterdam division of this warehouse chain is currently being renovated and has already gotten a large new beauty treatment area where you can get pampered with your favorite cosmetic brands. Since August 2018, it also has a brand new Coolsingel Café where you can enjoy a coffee with cake or a light lunch with – why not – champagne.


7. LIJNBAAN AND KOOPGOOT
In 1953, the Lijnbaan was the first car-free shopping boulevard in Europe and it's still the best-known Rotterdam shopping street. The pedestrian area expands onto the Lijnbaan's side streets, which are worth wandering into as well. Here, you'll mostly find big retailers like Vero Moda and Mango.
The same goes for the Koopgoot – literally translated as "the buying gutter" and the unofficial but widely used name the people of Rotterdam have given the Beurstraverse ("Stock Exchange Passage"). It's part of the Beursplein ("Stock Exchange Square") that runs a level below ground while still being outdoors.


8. KRUISKADE
Close to more budget and mid-range retailers of the Lijnbaan and the Koopgoot, you find the more exclusive brands of the Kruiskade. Here you can go shopping at stores like Hugo Boss and Roberto Botticelli.
OPENING TIMES AND DATES FOR ROTTERDAM SHOPS
What's cool about going shopping in Rotterdam, is that stores are open seven days a week. That's not a common thing in the Netherlands or even Europe. Official opening and closing times in the city center are as follows:
Monday: 11 a.m. – 7 p.m.
Tuesday, Wednesday, Thursday, and Saturday: 10 a.m. – 7 p.m.
Friday: 10 a.m. – 9 p.m.
Sunday: 12 p.m. – 7 p.m.


The Zuidplein Rotterdam opening hours are:
Monday: 11 a.m. – 5.30 p.m.
Tuesday, Wednesday, Thursday, Saturday, Sunday: 9 a.m. – 5.30 p.m.
Friday: 9 a.m. – 9 p.m.
Opening hours for Rotterdam Alexandrium shopping center are:
Monday: 11 a.m. – 6 p.m.
Tuesday, Wednesday, Thursday, Saturday: 11 a.m. – 6 p.m.
Friday: 9 a.m. – 9 p.m.
Sunday: 12 p.m. 5 p.m.
Opening hours and days can differ for individual Rotterdam stores so if there's a place you definitely want to go to, I recommend looking it up beforehand.
HOW TO GET TO ROTTERDAM
By train
Whether you're flying into Schiphol Airport or traveling from another city, taking the train is the easiest way to get to the center of Rotterdam. Rotterdam Central Station lies right at the edge of the center, walking distance from all the shopping areas. It also has frequent train connections to other Dutch and European cities.
I regularly work together with Thalys when I go to Rotterdam. Yes, these high-speed trains are a bit more expensive than the regular ones, but you do get a lot in return for that higher price:
you arrive sooner.
you're certain of a seat.
there's free WiFi.
you're certain of enough space (which really isn't the same as just getting a seat.
you get to charge your phone or another device as every seat has an electricity socket.
You can get some work done as every seat has a stow-away table.
and if you get a premium ticket, you can enjoy a lovely meal served right at your seat.

By car
It depends a bit on where you're coming from, but traveling by car to Rotterdam will almost always be more expensive and more of a hassle than going by train. Rotterdam is a big city and so there's always traffic, whether you're driving in, out, or around town.
If for some reason, it's more convenient for you to have your car around, or if you're traveling with a group of people, you can always park in one of the city's many paid parking lots. There are quite a few that have very reasonable prices for 24 hours of parking.
That being said, avoid parking on the street as it's much more expensive and limited in time. And if you come during the weekend, take into account that it can get very busy and you might have to look around for a spot – even in the parking garages.