Line-up of China' s Major Bulk Cargo Ports in Week 26 of 2022
From: E-PORTS
Category: E-PORTS
30/Jun/2022
Compared with the congestion of the bulk cargo ports last week, the congestion of Bayuquan port has improved significantly, and there is no need to queue up to enter the port. The congestion time of Qingdao port has increased slightly. Now the bulk cargo ports are in good condition, and no large-scale congestion has occurred. The ship operation and management party is requested to plan in advance~
On June 10, the phase II project of Zhongzhai ore terminal in Chuanshan port area of Ningbo Zhoushan port, the largest ore transfer terminal in Ningbo port, successfully passed the completion acceptance. This is a provincial and municipal key traffic project, and also the largest ore transfer wharf built in Zhejiang Province in recent years.
The project is located in the north of Chuanshan Peninsula, Guoju Town, Beilun District, Ningbo City, with a design annual throughput of 20million tons. The project was officially started in April, 2018. The construction includes the construction of a 300000-ton ship unloading berth, a 50000-ton ship loading berth and a 35000-ton ship loading berth, occupying 813 meters of coastline. At the same time, the project will also build a new approach bridge, two storage yards, and supporting production auxiliary facilities such as corridor transfer station, road and tunnel.
It is reported that after the completion and acceptance of the project, it will further improve the utilization efficiency of Ningbo Zhoushan port deep water coastline, help the construction of Ningbo Zhoushan port iron ore distribution center, and provide a more convenient iron ore logistics channel for the development of iron and steel industry in the Yangtze River Delta and along the Yangtze River.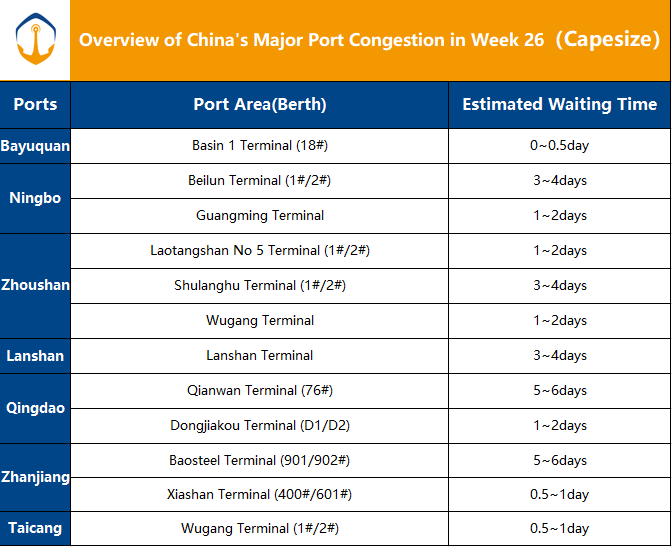 For more information on Chinese port schedules, please click the link below to view: https://www.e-ports.com/