[E-PORTS News] Fuel Cost May Rise 30% Next Year
From: China Shipping Gazette, edited by E-PORTS
Category: Industry
29/Sep/2019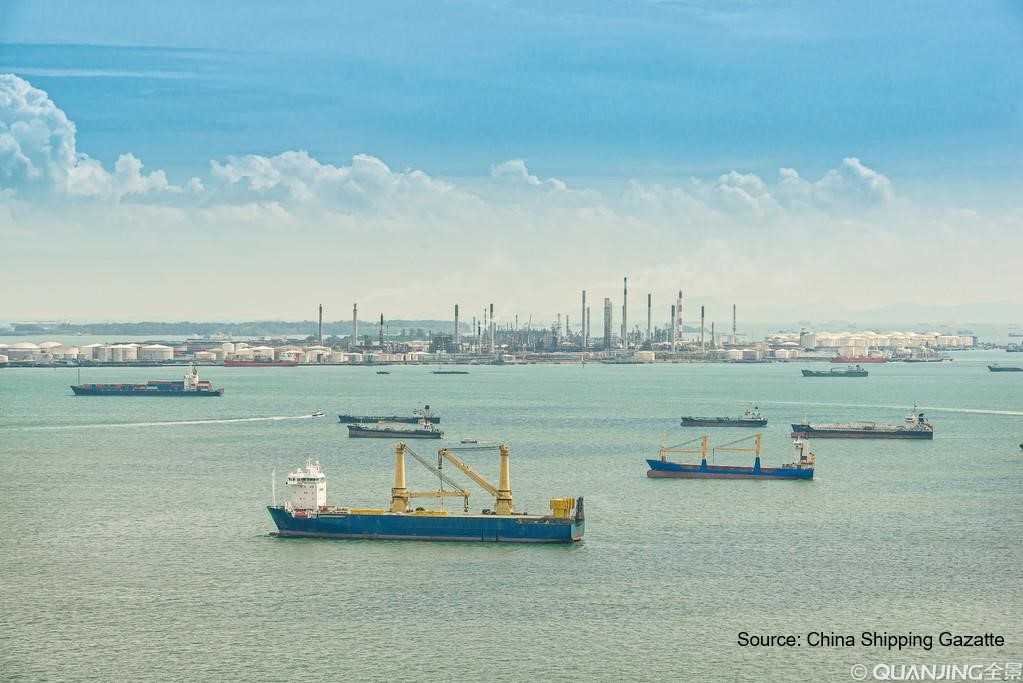 There's only three months left before the implementation of IMO 2020 Sulfur Cap. Everyone is most concerned about the cost on using low-sulfur oil and installing scrubbers.
Drewry recently made a prediction on the cost of low-sulfur oil. It holds that the cost of low-sulfur oil is about 30% higher than that of high-sulfur oil at Asian ports that have already started selling compliant oil. However, considering that the demand for low-sulfur oil will greatly increase in November and December, the market environment will be different from that of today. Therefore, the price gap between the two kinds of oil will also change to some extent.
The price of low-sulfur oil is expected to rise in 2020, but may decline in 2021 and 2022.
According to Alphaliner's latest weekly report, data from ports such as Rotterdam and Singapore show that in July, the price gap between high-sulfur oil and low-sulfur oil was US$ 100-150 per ton, while by August, the gap has risen to over US$ 200.
At present, the trading volume of low-sulfur oil is still relatively low and the price gap is large. Alphaliner further analyzed that if this trend (increasing price gap) continues, shipowners installing scrubbers will gain cost advantages because they can continue to use low-priced high-sulfur oil."
The world's top 12 liner companies have all tried to install scrubbers at present. In fact, the price gap between two different kinds of oil and the cost of installation and maintenance of scrubbers are the main reasons for shipowners to choose. In addition, some shipowners chose to install scrubbers as fuel suppliers have not made it clear whether they can supply enough compliant oil for the market.
If the price gap continues to increase in the future, scrubbers will undoubtedly be more attractive considering the cost. Drewry believes that ships that meet the new environmental regulation by installing scrubbers can continue to burn high-sulfur oil while avoiding price fluctuations of low-sulfur oil.
船公司注意!这项固定成本明年上涨30%!
距离限硫令正式生效已经不足四个月,对于包括使用低硫油和安装脱硫塔在内的几种可行的减排方式,大家最关心的还是成本问题。
业内权威分析机构德路里,日前对低硫油成本作出了预测。德路里认为,现阶段看,在目前已经开始出售低硫油的亚洲港口,这种合规燃料的成本要比高硫油高出30%。不过,考虑到低硫油需求将在今年11月和12月大幅增长,届时,市场环境和现在相比会有所不同,因此,低硫油与高硫油的价差也会有一定变化。
德路里还预测,低硫油的价格在2020年将上涨,不过可能会在2021年和2022年下降。
另据Alphaliner的最新周报,来自鹿特丹和新加坡等港口的数据显示,今年7月份,高硫油和低硫油的差价为每吨100-150美元,而到了8月份,这一差价已经上升到200美元以上。
Alphaliner表示,当前低硫油的交易量仍然较低,且价格差异很大。该机构进一步分析称:"如果这一趋势(差价增大)延续,为船舶安装了脱硫塔的船东,由于可以继续使用价格较低的高硫油,将因此获得成本优势。"
据不完全统计,目前,全球前12大班轮公司均已尝试安装脱硫塔,只是对脱硫塔的依赖程度不同。事实上,高硫油和低硫油之间的差价,以及脱硫塔安装和维护保养的成本,是船东选择的主要依据。此外,一段时间以来,由于燃油供应商一直未明确表示,是否能够为市场供应足够多的合规低硫油,也促使部分船东开始选择安装脱硫塔。
如果未来高硫油与低硫油的差价继续增大,从成本方面考虑,安装脱硫塔无疑将更具吸引力。德路里认为,通过安装脱硫塔而满足环保新规的船舶,可以继续燃烧高硫油,同时可以避开低硫油的价格波动。