China's First "Unmanned" Container Ship Opens! Currently, the world's largest intelligent navigation ship is under construction.
From: E-PORTS
Category: Industry
19/May/2020
On the morning of may 15, China's first autonomous container merchant ship, "zhifei", held a construction commencement ceremony at Qingdao shipyard co., ltd. It was reported that the 300TEU container ship "Zhifei" is China's first transport ship with intelligent navigation capability and target-oriented commercial operation.
It is also the world's largest intelligent navigation ship currently under construction. The ship is scheduled to be tested and operated in the second half of 2021. "Zhifei" was designed by Shanghai Jiahao Ship Design Institute, supervised by Zhihai Navigation (Qingdao) Technology Co., Ltd. and built by Qingdao Shipyard Co., Ltd. It has a total length of about 110 meters, a width of about 15 meters. And its depth is 10 meters and sail as fast as 22.224 kilometers per hour.
There was an autonomous navigation system integrated and installed on "Zhifei", which was developed by many scientific research institutions and enterprises such as the Water Transport Research Institute of the Ministry of Communications and Transportation, and Zhihai Navigation (Qingdao) Technology Co., Ltd. It adopts a large-capacity DC integrated electric propulsion system developed by China shipbuilding industry corporation 704 research institute. For the first time, it realizes two technological leaps of DC and intelligence on the same ship. It has three driving modes of manual driving, remote control driving and unmanned autonomous navigation.
It can realize navigation ambient intelligence perception, autonomous tracking, autonomous route planning, intelligent collision avoidance, automatic berthing and unberthing as well as remote control driving.Through multi-network and multi-mode communication systems as 5G, satellite communication, cooperation can be realized with other institutions and facilities of shore-based production, service, dispatching control, supervision as for ports, shipping, maritime affairs, aviation insurance and others .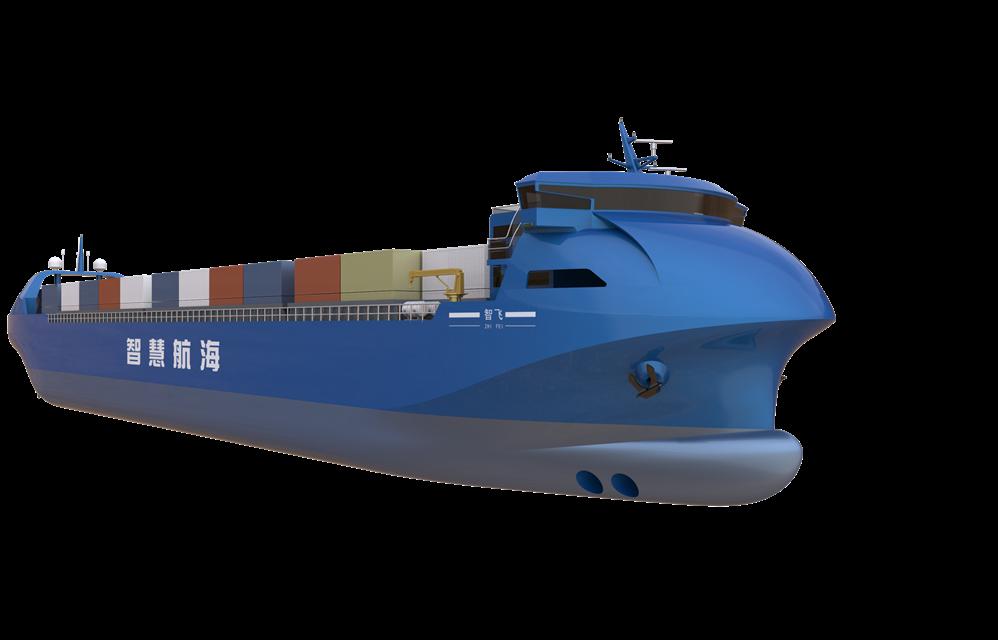 The construction of the "Zhifei" is an important reference for the development of China's intelligent shipping technology, and a guidance for the formulation of relevant standards and regulations for the construction of intelligent ships in China, which will provide important experience for the development of intelligent ships and intelligent shipping in China in the future.
Zhang baochen, director of the academic Committee of the institute of water transportation science of the Ministry of transportation, said that from a global perspective, the development of intelligent shipping technology is at an early stage, and the next 15 years are the critical period for development. Although China's shipbuilding order volume has been firmly ranked first in the world, there has always been a weak point. As a new trend, ship intelligence has given China the opportunity to "overtake in corners". In this technological revolution, we must seize the opportunity to catch up, and "Zhifei" is an active attempt to transform and upgrade the shipping industry.
At present, people from many research and development units including the Institute of Water Transport Science of the Ministry of Transport, Dalian Maritime University, Harbin Engineering University and 704 Institute of China Shipbuilding Heavy Industry, which are involved in the research and development of the ship's intelligent navigation system and related technologies and equipment. They are working day and night to overcome various technical difficulties and strive to complete the research and development tasks as planned.
我国首艘"无人"集装箱船开建!目前在建全球最大智能航行船
5月15日上午,我国首艘自主航行集装箱商船"智飞"号在青岛造船厂有限公司举行建造开工仪式。据介绍,300TEU集装箱船"智飞"号是我国首艘具有智能航行能力、面向商业运营的运输货船,也是目前在建的全球吨位最大的智能航行船舶,该船计划于2021年下半年进行测试运营。"智飞"号由上海佳豪船舶设计院设计,智慧航海(青岛)科技有限公司监造,青岛造船厂有限公司承建,总长约110米,型宽约15米,型深10米,设计航速为12节。
"智飞"号集成并安装有交通运输部水运科学研究院、智慧航海(青岛)科技有限公司等多家科研机构和企业完全自主研发的自主航行系统,采用中船重工第七〇四所研发的大容量直流综合电力推进系统,首次在同一船舶上实现直流化、智能化两大技术跨越,具有人工驾驶、远程遥控驾驶和无人自主航行三种驾驶模式,能够实现航行环境智能感知认知、自主循迹、航线自主规划、智能避碰、自动靠离泊和远程遥控驾驶。通过5G、卫星通信等多网多模通信系统,可以与港口、航运、海事、航保等岸基生产、服务、调度控制、监管等机构、设施实现协同。
智飞"号的建造,对于我国智能航运技术发展具有重要的借鉴意义,对于我国智能船舶建造的相关标准法规制订具有指导意义,将为我国未来智能船舶和智能航运的发展提供重要经验。
交通运输部水运科学研究院学术委员会主任张宝晨表示,从全球范围来看,智能航运技术发展已处于初期阶段,未来十五年是发展关键期。虽然我国造船订单量已稳居世界第一,但是一直存在"大而不强"的问题,船舶智能化作为一种新趋势给了中国"弯道超车"的机会。在此次技术革命中,一定要抓住机会赶超,"智飞"号就是船舶行业转型升级的积极尝试。
目前,参与该船智能航行系统和相关技术与设备研发的交通运输部水运科学研究院、大连海事大学、哈尔滨工程大学和中船重工704所等多家研发单位的科研人员正在夜以继日地攻克各种技术难关,努力按计划完成研究开发任务。
来源于:国际船舶网