Rotterdam Cruise Terminal: Ship Schedule, Food and Transport
From: E-PORTS
Category: Expo
10/Oct/2019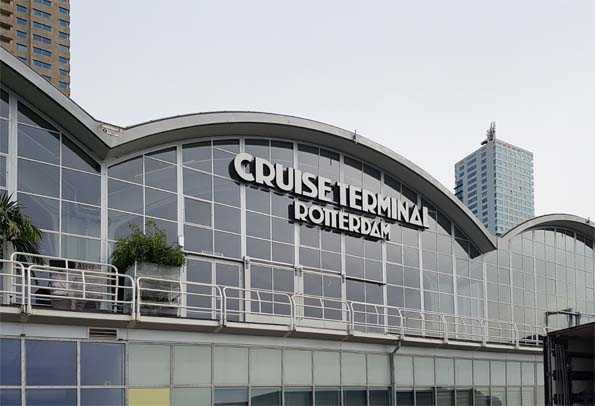 Long before the days of cruise ships, passengers were using Rotterdam as a port of embarkation for faraway places: The Pilgrims departed from Delfshaven (now part of Rotterdam) for the New World by way of Southampton in 1620, Durant's Swiss ancestor left Rotterdam for the New World in 1752, and Holland-Amerika Lijn (in English, Holland America Line) carried hundreds of thousands of immigrants--mostly Eastern Europeans--from Rotterdam to North America from 1880 onwards.
Throughout the first 70 years of the 20th Century, Rotterdam's Holland Amerikakade (Holland America Quay) was the arrival and departure point for ships between the Netherlands and foreign ports--most notably Hoboken, New Jersey, which served the New York market. Holland America Line switched from scheduled passenger service to cruising in 1971, and today, the renovated HAL embarkation and customs hall is the Cruise Terminal Rotterdam.
Cruise Terminal Rotterdam currently welcomes about 20 cruise ships a year, including ships of such lines as Holland America, Cunard, Fred. Olsen, Norwegian Cruise Line, and Princess Cruises. It's a two-story building with an escalator, elevator, toilets, a glass-enclosed boarding bridge, shops, and other services for travelers.
A few years ago, we sailed on a roundtrip ms Rotterdam cruise from the city, and it was quite an experience: Hundreds of well-wishers waved from a park just beyond the cruise terminal, and the two-hour voyage from Rotterdam to the North Sea offered fascinating views of the city, the harbor, the industrial port, the Maeslant Storm Barrier, and the Hook of Holland.
Reaching Rotterdam Cruse Terminal
The Rotterdam cruise terminal is directly across the Nieuwe Maas River from the city center. From the floating H2otel, we walked 20 minutes or so via the Erasmus Bridge, but you can easily reach the terminal by taxi, tram lines 20/25/30 from the city center, or by Metro. (Get off at Wilhelminaplein and walk a short half-block east to the cruise terminal)
Food and Lodging
Hotel New York is a boutique hotel in the former Holland America Line headquarters. (The building dates back to the early 20th Century; the hotel opened in 1993.) The Hotel New York has 72 rooms, a well-regarded restaurant, and a location that's perfect if you're catching a ship: It's just down the street from the Cruise Terminal Rotterdam.
Tip: Because the cruise terminal is only about 2 km or 1¼ miles from the heart of Rotterdam, any centrally-located hotel (preferably near the waterfront) will be convenient for an overnight stay before or after a cruise.